Westside Community skatepark
It was supposed to be another ramp park, but…
The newly formed El Paso Skatepark Association had been making the rounds with City leaders and decision makers, doing presentations showing the states of disrepair and proposed action plans to fix El Paso's 8 modular ramp parks.
We wanted to re-focus the way our City spent taxpayer money on its public skateparks.  We wanted concrete. To drive the point home, our slogan became Tienes Concrete? (perfect Spanlish that means got concrete?)
Parks Board meeting
EPSA founding members Gabe Lawler and Paul Zimmerman made an hour long presentation at the monthly El Paso Parks Advisory Board meeting on August 7, 2007.
Backed by no nonsense facts and information from Skaters for Public Skateparks, EPSA explained what makes a high quality public skatepark and asked City folks to re-examine their investments in Skatewave and SOLO modular ramps as 9 of 10 El Paso skateparks were failing ramp set ups with Carolina being the exception.
The meeting ended with everyone in agreement that the future of El Paso skateparks should be concrete and Westside Community was next on the build list.
Former El Paso Parks and Recreation Director Barry Russell heard all the concrete buzz and wanted to do something better. He invited EPSA reps out to the Westside Community park to discuss.
Honestly, we thought we'd be helping choose more ramps out of some catalogue. But instead, he suggested possibility of converting the park's adjacent banked ditch into a skate area. Cool outside-the-box idea, but the ditch had limitations and the existing concrete surface was already being damaged from large rocks during big rainstorms.
We asked the key question – what's the budget? The answer – $200k and shrinking fast.
Design morphing
But both the design concept and budget morphed considerably along the way.
Seth Johnson of Ideal Skateparks designed the skatepark's footprint pro-bono, EPSA suggested refinements and Mijares-Mora Architects Steve Dominguez and Rob Parker made the blue prints.
Suffice to say there were weird dynamics, too many chef's in the kitchen, and the place should've been better.
Here's the full design/build photo story of Westside Community.
Sloppy Sam's crew
The bid to build was won by CSA (general contractor) with Sloppy Sam Batterson's company, Breaking Ground Skateparks from Rhode Island, hired to do all the specialty skatepark builds. Thanks to Sam, Nate, Tom, Brett, Fergie, Grapes and all the crew.
The skatepark's cornerstone is a 6 foot bowl that hips into an "A-framed" 8.5 foot clamshell deep end with Federal Stone pool coping.
The L-shaped street course includes two stair sets (5 stair & 3 stair), a step up gap, hip banks,ledges, nipple bump, quarter pipe and a long China bank.
July 8, 2009 – Grand Opening
Hundreds of enthusiastic skaters joined city officials to cut the ribbon and celebrate El Paso's second high quality, concrete skatepark at Westside Community Park (7400 High Ridge) near Franklin High School. See event photos.
"Thanks for being so patient," said El Paso Parks Director Nanette Smejkal. The 12,600 square foot facility took 4 months to construct and cost $457,000 – paid for with money from the 2000 Quality of Life bond election.
Prior to the dedication, the pros and bros from the Sugar Skateboard team performed a demo for the large crowd, some of them perched atop shade canopies for a better view. Team leader Marco says they were videotaping the event as part of special for Fuel TV.
"The original plan was for this skatepark was a flat slab with modular ramps. But give a lot of credit to Parks for listening to the skaters and embracing our vision," said EPSA prez Paul Zimmerman to to amped up crowd. "A lot of people ask about our slogan "tienes concrete?" and what it means. It's all about building better skateparks and concrete is where it's at."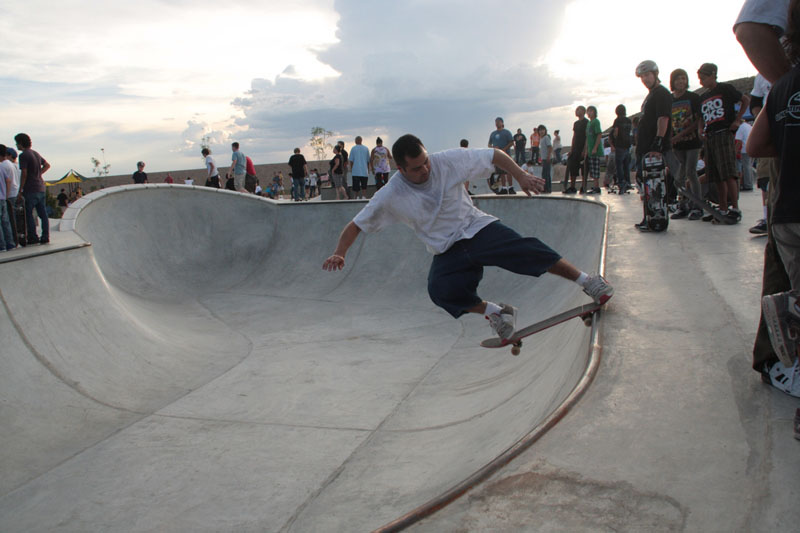 Opening sesh
After all the dignitary stuff, it was time to skate. Traffic was heavy and energy was pumping.
Old school riders like Pancho and Dr. Skateboard joined young guns like Isaac Torres and Diego Alvardo in the bowl to show the looky-loos and City folks what was possible on this new terrain.
"The clam bowl is awesome," said Jeremiah Risk, a high-flying skater from Temecula, CA. Risk, who drives an 18-wheeler for WWE, says he was just passing thru when he heard about the grand opening.
Rocky Chavez
Crooks Skateshop held a best trick contest on the park's step up/handrail/hubba section.
The open jam was won by local Rocky Chavez – his prize winnings were tossed into the crowd.
Thanks to the media for helping spread the good word. KVIA-TV's Doppler Dave Speelman did live weather hits at 4 and 5, but had to bail out on the 6 o'clock show after his video camera guy got bonked in the head by a loose board.
Univision 26, KFOX, KDBC, KTSM also covered the festivities and the El Paso Times did nice preview feature story West Side not another ramp park, custom skatepark set to open Wednesday.