Dual-purpose Infrastructure
While its primary function is flood protection, skateboarders will enjoy waiting for the next big downpour thanks to 5 foot sidewalls curved to an 8 foot radius throughout the concrete basin.
"It's truly a cutting edge project," says local skate legend Jaime Favela has enjoyed skating stormwater drainage features like ditches and full pipes for nearly 40 years. "The big difference with Van Buren Dam is that it was designed and built with skateboarding in mind – it's not just a coincidence."
Progressive-thinking El Paso city officials made it happen, led by District 2 City Representative Susie Byrd. After seeing the skateable Edgemont ditch created by EPSA and Winton Homes in nearby Santa Teresa, NM, she reached out to El Paso Water Utilities.
"City Council was very clear that we wanted to green-up our stormwater system and to develop more dual-use facilities," said Byrd.
The stilling basin will double as a recreational venue much like the Saipan soccer field/pond park, created after the 5 acre neighborhood near the Spaghetti bowl was flooded beyond recovery when Storm 2006 dropped 15 inches of rain on El Paso during a one week period (July 27 to Aug 4.) The deluge resulted in more than $450 million of damage and the need for for new stormwater master plan.
Ironically, Van Buren Dam flows downhill into the Saipan neighborhood. EPWU engineers indicate that Van Buren had not been modified or improved since its creation in the 1947. A Texas Commission on Environmental Quality (TCEQ) study revealed the need to increase water capacity in the reservoir and slow the flow of water high up on the mountain's hillsides.
Saab Site Construction
Construction was challenging for Saab Site Contractors who broke ground in August 2011. More than 3,000 yards of concrete was pumped in to complete the build.
Solid concrete bowl corner
The Saab Site crew manages 30 yards of concrete to make the first bowl corner.  With 1/2 inch rebar placed 6 inches on-center, these solid concrete "ice cubes" were built to withstand the 100 year storm!
"I was racking my brain," said Saab's concrete guru Rene Ordonez. He and his brother Sergio would be tasked with figuring out how to form up and hand-stack huge 30-yard pours (like ice cubes) to make a 14-foot wide quarterpipes. Add to that, a pair of bowl corners and dissipator blocks.
"We settled on using a really dry concrete mix with a 2-inch slump. And for the dissipator blocks, we used chicken wire tied into the rebar cage to control potential bulging on the 3 open sides," said Ordonez.
The total concrete yardage was impressive: 10 yards for each dissipater block, 30 yards for each 14 foot wide QP, 36 yards for each bowl corner, 590 yards for the flat bottom (5 feet thick in places with rebar 6 inches on center) and 2,200 yards for the Mayan pyramid-like stairs. "We did 3,192 yards total!" said Ordonez. Saab wrapped up construction in 6 months.
Construction site sessions
Locals were poaching the construction site with regularity in November 2011 without incident.  EPSA well-represented at this unauthorized sesh by its board of directors. Jaime Favela test-grinding the coping-less corner.
Locals were poaching the job site to roll the basin long before it was finished with up to 20 heads hitting it up on any given weekend. "The whole no coping thing takes some getting used to," said old schooler Barry Goad.
Traveling pro skate and BMX teams like Gravis, Blood Wizard, Haro and many others have taken advantage of the surreal Mayan pyramid-type setting to do photo/video shoots and El Paso native Kevin Lozano lays claim to the first gap to flat from the culvert tunnel which has since been gated off.
Signage stating "Caution: Skate at Your Own Risk, Do Not Enter if Surface is Wet" was installed in late April to cover legalities.
Pro skater approved
Legendary pro skater Mike Vallely blasting big over the downstream channel gap – surreal and mag worthy!
Photo: The Skateboard Mag Road Trip 2012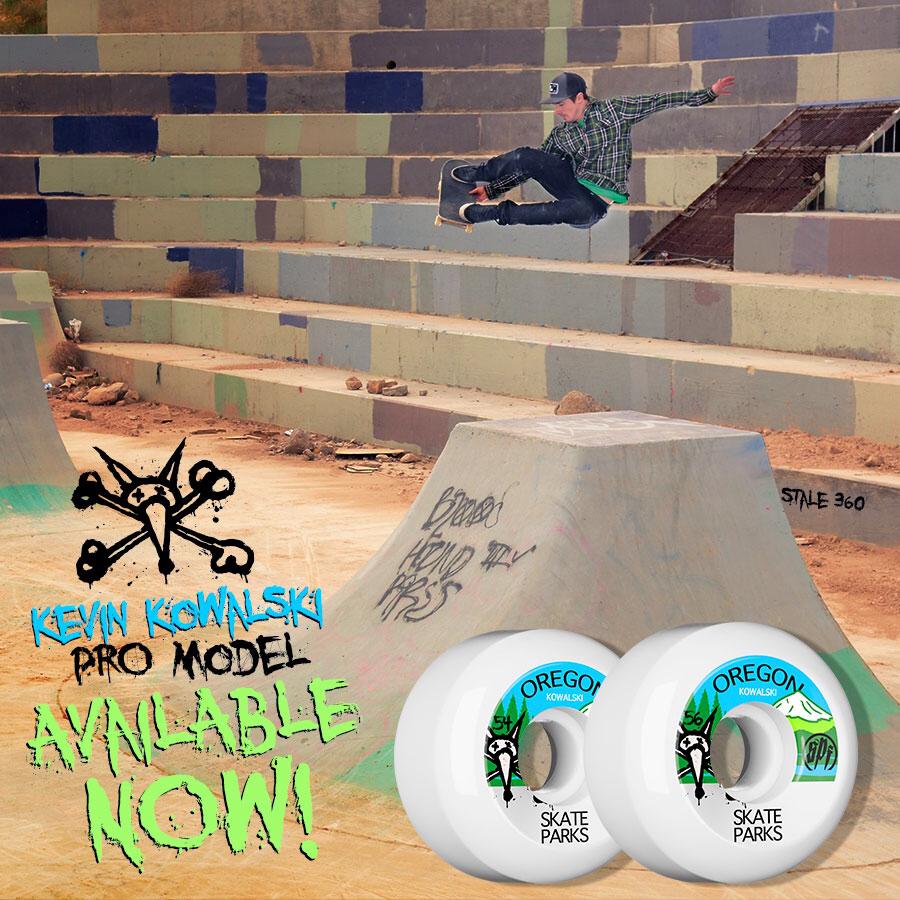 Dirty dam
It's a ditch, so it does get dirty. That said, rustic settings make a great photo opps for touring pros like Kevin Kowalski.  His massive stalefish over the dissipator block rockin' this killer Bones Wheels print ad.
Could Van Buren Dam spark a flood of future skateable stormwater projects? Only time will tell.
Far Eastside City Rep Mike Noe says he would like to see more of these projects. From the private sector, Winton Homes and EPSA have began work on another skateable ditch project in the future Rio Valley neighborhood off Doniphan in the Upper Valley.
Favela, still skating at 50-plus years of age, offered perspective on El Paso's penchant for skateable stormwater drainage projects.
"40 years ago, skateparks were being designed with stormwater drainage features like reservoirs and fullpipes. So its pretty cool that it's come full circle – now, we're seeing ditches designed like skateparks. Taxpayers get a high return on investment. This is sustainable infrastructure and a win-win for the city and the skate community."
Dennis Enarson – Haro BMX
Hot dam!  The stilling basin has attracted a ton of rad BMX guys – this Instagram post by Haro BMX rider Dennis Enarson is the kind of stuff circus ringmasters drool over!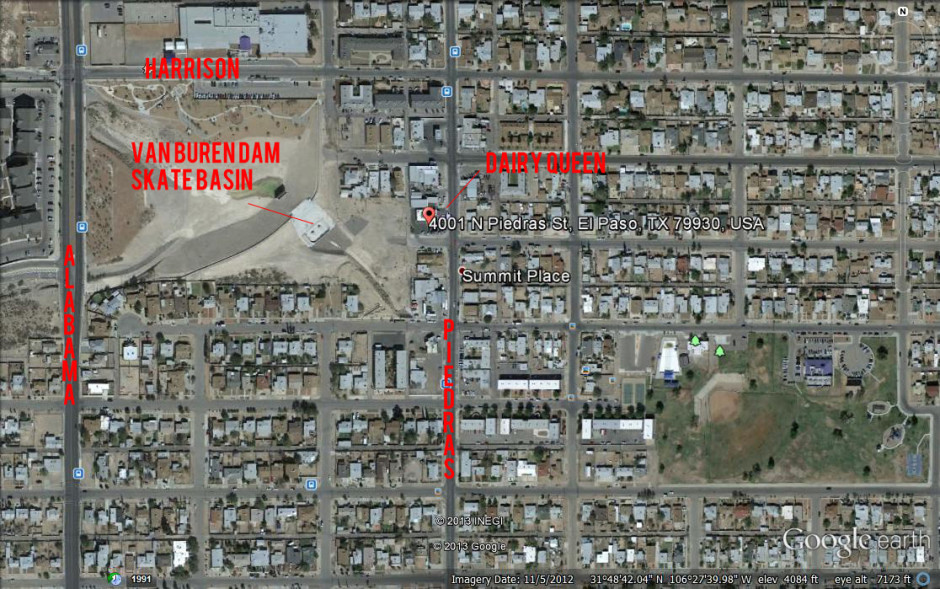 How to get there
Van Buren Dam is also known as the "Piedras Ditch" because the best way to enter is behind the DQ on Piedras.  Here's the map – enjoy!