UTEP Project MOVE
Project MOVE (Miner Opportunities for Volunteer Experiences) is the University of Texas at El Paso's annual day of volunteer service. Since it's inaugural event in 2010, EPSA has partnered every spring with UTEP student volunteers to help maintain and repair our public skateparks and made-to-skate ditches.

The initial focus was on public skateparks. Specifically, cleaning the skating surface and painting over offensive graffiti as it seemed there was a plague of new tagging marks every week.
By 2014, with the City stepping up routine maintenance, EPSA switched gears and brought the help to where it was needed most in skateable stormwater drainage projects.  Because they are ditches, they collect plenty of sand, rocks, tumbleweeds and trash over a one-year time period. Big props to the UTEP folks who always show up with an army of volunteers to take care of a massive task in a few short hours!
2016 – Van Buren Dam clean up
On February 27, 2016,  more than 40 orange-clad UTEP student volunteers joined EPSA and local skaters to clean up rocks, debris and caked-on mud at the Van Buren Dam. With no easy way to get heavy machinery down into the basin, the best strategy to get trash out is a good old-fashioned bucket brigade.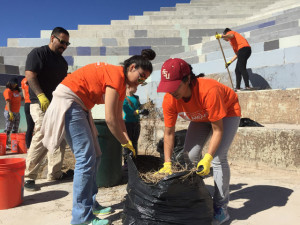 2015
EPSA's own Dr. Skateboard a.k.a. UTEP Professor Bill Robertson was featured in this 2015 volunteer recruitment print ad for Project Move.
The goal of Project MOVE is to create more well-rounded students who are familiar with the needs of their community and its residents.
UTEP organizers hope the volunteers recognize the value of community service and continue to be involved wherever their professional careers take them.
2014
In 2014, it became clear that our made-to-skate ditches Edgemont and Van Buren Dam were facing more clean up needs than our skateparks – resources were allocated accordingly.
2013
EPSA and student volunteers focused on cleaning up 3 public skateparks in 2013 including Mountain View pictured here.
Although the new skatepark was less than a year old, it had gotten hammered by offensive tagging and graffiti.
2012
Our 2012 Westside Community skatepark clean up crew – picks up after a job well done.
2011
Why so gray? Fresh Carolina taggings got a splash of red color in 2011 with EPSA contributor Philly Sullivan working the nappy roller.