Sunland Park Skate Plaza
Big stairs, burly gaps and rails galore – welcome to the wild, wild west of street skating!
The much-anticipated Sunland Park Skate Plaza officially opened to the public on June 11, 2011 with mariachi flare to make a dude like Pancho Villa proud – he used to prowl these parts ya know!
The plaza is located at 4800 McNutt adjacent to Santa Teresa Middle School. It's free and open daily from 7am to 10pm with lights.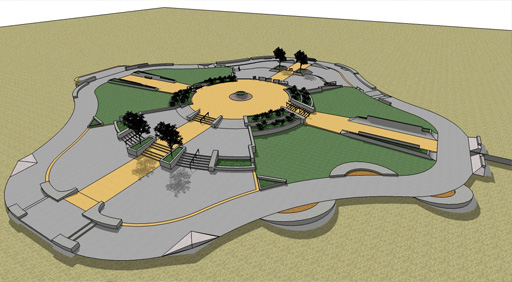 New Mexico – Zia design
Shaped like the Zia on the New Mexico flag, the Rob Dyrdek-designed, DC skate plaza is the centerpiece of a 35-acre, $4 million sports complex.
It was a long game of W-A-I-T and lotsa trespassing to get here. After announcing an April 30th "soft opening" of the Sunland Park Skate Plaza, the city pulled back saying the skate plaza would remain closed until a grand opening event on June 11th.
With no plausible explanation given why a "finished" park would remain closed, skaters (and parents) were greeted by a locked gate at the sports complex and the 4-plus months of illegal "barge" skating continued for those less patient.
Numerous delays including the building of a sewer line and final payment by the State of New Mexico, slowed determination of any "official" opening date long after the concrete had cured on the 36,000 square foot skate plaza.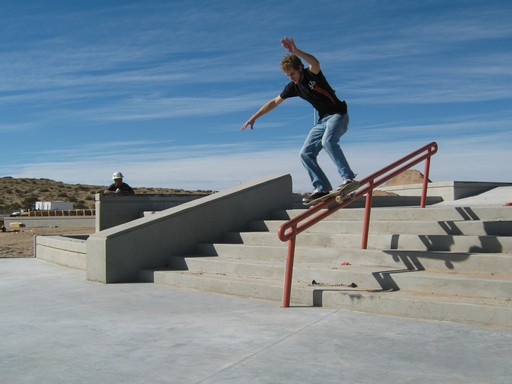 Test rider
Philly Sullivan test slides a rail during a permission session on December 16, 2010.
Most skaters weren't so lucky and found themselves running from cops to skate the finished, but not yet open plaza during the first 6 months of 2011 – an issue chronicled in this news report on KVIA-TV.
DNB Contractors Inc. began construction May 2010 – check out construction photos. 
"The skate plaza is unique because it will mimic actual landmark street skating spots," according to EPSA's Gabe Lawler who helped refined the plaza blueprints with architects from Carson & Franco.
"We took inspiration from a famous bank spot in Barcelona, Spain that has benches at the top and some of the rails mock those at the Los Angeles County Courthouse."
To dial in the heights of rails and ledges, Lawler met with local Sunland Park skaters. "We used a measuring tape and asked if it was too tall or short for them to ollie up to."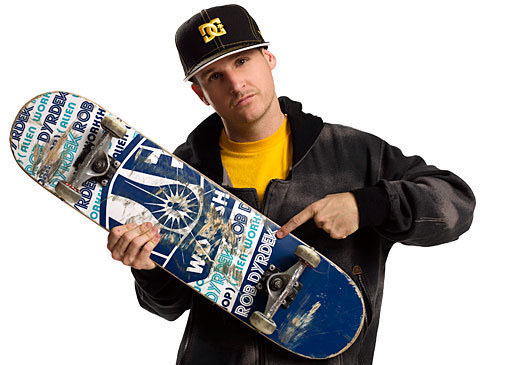 Rob Dyrdek helps
Professional skateboarder/MTV personality Rob Dyrdek added his 2 cents and then some.
The initial design concept was submitted to the Rob Drydek/DC Shoes Skate Plaza Foundation. They kept the Zia layout, but wanted to re-arrange the obstacles. Most importantly, the Foundation paid for Newline Skateparks to craft the final design, making it a state of the art facility.
"The standards for modern day skateboarding have been developed in urban architecture," says Dyrdek on www.skateplaza.com.
Carter Dennis of Skaters for Public Skateparks indicates "this will definitely put Sunland Park on the map." It will be the only Drydek-designed plaza in the Southwestern United States – the only one between Shreveport, Louisiana and Los Angeles.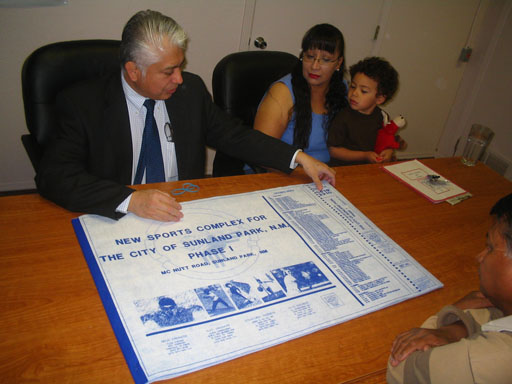 Parental advocacy
Youth advocate Aggie Montoya meets with Carson and Franco architects in April 2008 to review blue prints.
Montoya first started working on a skatepark in Sunland Park back in 2002 when her skateboarding son was only 6 years old.
Their grassroots efforts secured a modest Tony Hawk grant for $10,000 for "seed money" back in 2004.
The project, funded by grant money from the State of New Mexico, has overcome numerous obstacles and delays since it's humble inception in 2002.
After finalizing the design and location, surveyors discovered mortar and pestle-type objects on the southeastern corner of the 35 acre site. Due to state funding involved, these "archeological ruins" would force the project into delay mode for nearly 2 years while the New Mexico Department of Cultural Affairs Historic Preservation Division conducted studies on the historical signifigance of these objects.
"We were held hostage by the State's historical preservation agency," said Fernando Perez, ex-Recreation Coordinate employee with Sunland Park. "By state law, all Indian tribes have to sign off on the archeological study before you can build anything.
Funding in jeopardy
Then, even more scary news when the State (and the nation) fell into an economic recession – funding for the sports complex was dangerously close to disappearing.
In October 2008, Governor Bill Richard issued a memorandum titled "Executive Plan to Reduce State Spending" that called for the "deauthorization of appropriations for stalled, ineffective or inadequately-funded capital outlay projects." "The Sunland Park Skate Plaza was on the list for deauthorization," said ex-Mayor Ruben Segura.
Dangerously delayed
After pair of "successful" archeological surveys, the skate plaza was finally positioned to move forward. The City of Sunland Park needed to act fast to pull the project out of "stalled" mode.
In January/February 2009, newly-elected Mayor Martin Resindez and Council members were scheduled to vote "to approve the location and Phase One" of the of the sports complex.
But after repeatedly delaying a vote and/or cancelling meetings on the subject, local citizens became concerned and angry at Council's lack of progress and the prospect of having the state grant monies reclaimed.
Action in numbers
With help from the El Paso skatepark Association, an all-out emailing campaign and media blitz put Mayor Resendiz and Council members in the hotseat and under public scrutiny.
An emotional, overflow crowd of more than hundred skaters, concerned citizens and the media attended Sunland Park's City Council meeting on February 18, 2009 to demand action.
Mayor Resendiz insisted the funding was never in jeopardy, a statement contested by ex-Mayor Segura. By night's end, Council unanimously approved the site location.
Even the contracts bidding phase would face a hurdle. A December 2009, ground-breaking ceremony was cancelled after all bids came in overcost. After re-bidding the sports complex project without a swimming pool, DNB was successful and construction officially began on May 3, 2010.
"We've waited a long time for this," says Montoya, whose skateboarding son is now 14-years old. "The sports complex will mean our kids have a safe place to skate and bring much-needed revenue to our city."