Jaime Favela
Cutting his teeth on the rough streets of South El Paso in the 1970's and rolling nonstop ever since, Jaime Favela is the soul of El Paso skateboarding. Been there, grinded that, he's searched out 100's of pools and inevitably built his own DIY backyard bowl aka "The Huevo" in 2004.
Well-connected with pro skaters and big-time skatepark builders, but always a bro, Favela's expertise proved to be a key voice in the design of Carolina Skatepark and he continues skating aggro when most gray ballers have long called it a day.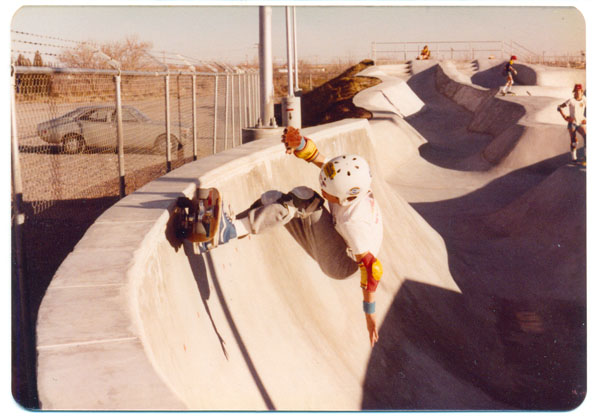 Earth Surf 1979
In the late 70's, Earth Surf skatepark was the place for big walls & big balls.
Favela was a local at the Northeast El Paso pay-to-play park, climbing the ranks as one of the city's hottest up and coming young riders.
Beast of Belton
When skateboarding's popularity slipped in the 80's, Favela kept charging – frontside lien to tail at El Paso's high bust Belton pool.
A Huevo!
Favela bringin' the heavy metal thunder on this frontside double trucker grind in his backyard DIY sanctuary.